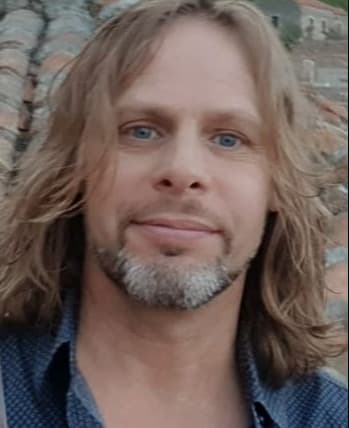 Dr Kevin Robinson
Lead Researcher & Director
BSc Hons (Portsmouth, England)PhD (Stirling, Scotland)
Kevin is the longest standing member and Director of the CRRU team. In addition to almost 28 years in the field of cetology, Kevin has an eclectic background in marine and fisheries science. He formerly taught at the University of Bangor on the MSc Marine Mammal Science degree, and is now an Honorary Senior Lecturer at the University of Exeter. In July 2005, Kevin received the ultimate accolade for his work with CRRU, receiving a Royal approval from Princess Anne at an honorary maritime reception at Holyrood Palace. He also came runner-up to Virginia McKenna in the 2013 ITV Animal Awards for Wildlife Conservation.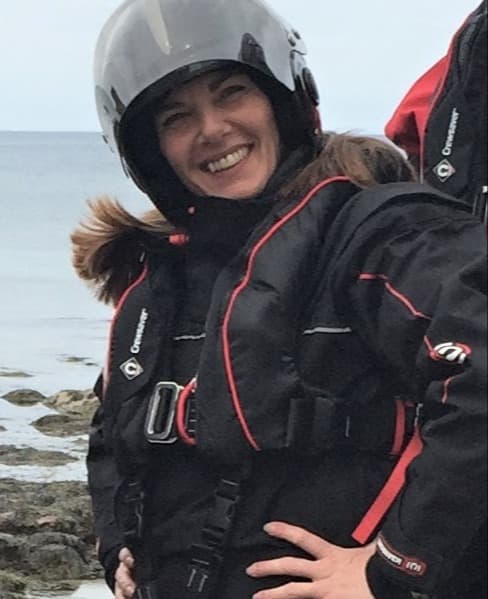 Jenny Spinou
Research Assistant
BSc (Southeastern College, Greece)
Jen assists with the running of the summer internship programme and general organisation of the field support staff and field team logistics. She is also the primary coxwain of the CRRU research boat and a qualified Marine Mammal Observer (MMO), applying mitigation procedures for whales and dolphins during offshore commercial operations. Jen is a fantastic cook, and in her spare time enjoys cross training, kayaking, photography, travel and world foods.
Duncan MacDougall
Research Assistant
BSc Hons (Aberdeen, Scotland)MSc (Aberdeen, Scotland)
Duncan joined CRRU as a team member in 2021 and returned in 2022 to undertake his MSc Project, investigating minke whale occurrence in relation to oceanographical conditions, and is extending this research beyond his MSc into the 2023 season with a larger dataset. He is also our "drone guy", carrying out another smaller project attempting to utilise aerial photogrammetry to establish a method of age-class separation in minke whales and harbour porpoises. Duncan enjoys "Gardenstown life" to the full and is a regular snorkeler/swimmer in Gamrie Bay.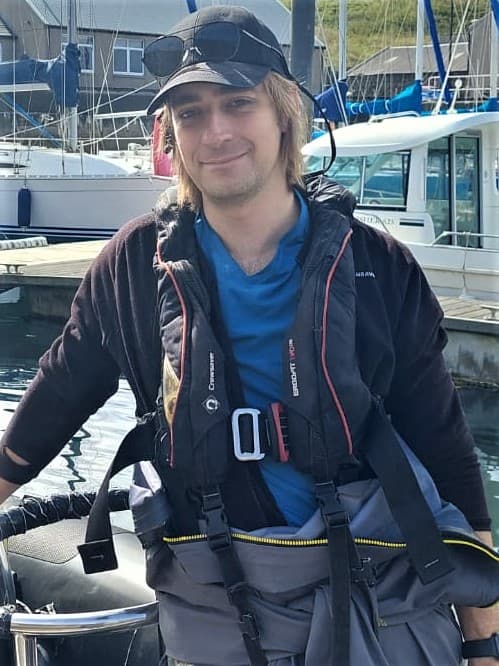 Sam Kindler
Field Technician
BSc Hons (Leicester, England)
Sam joined CRRU in 2022 as a team member and has been working with the charity ever since. With a background in principal software engineering, he applies his knowledge in supporting research work and methodology by building and maintaining equipment and tools used both in and outwith the field. With a keen interest in animal behaviour and conservation, Sam is currently planning to undertake an MSc in 2024 with an aim to develop a future career path in field research technology. In his spare time, Sam is a keen mountain climber and munro "bagger", sailor, swimmer and photographer.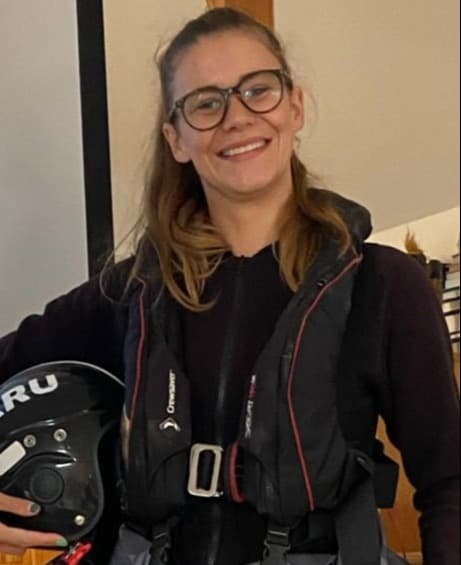 Elice Stroud
Research Assistant
BSc Hons (Essex, England)
Elice first joined CRRU in 2016 as a trainee and has been working with the charity every since. She is responsible for helping with data collection, updating the social media pages, and coordinating volunteers on a few teams per year. Elice is passionate about the conservation and understanding of marine mammals, with particular interests in their social groupings and behaviour. She is applying to undertake a MRes this year, with the aim of progressing onto a PhD in the future. Elice's favourite place is at sea on the CRRU boat "Hermes". Her interests include natural horsemanship, spending time with animals, travel, piano and learning to scuba dive.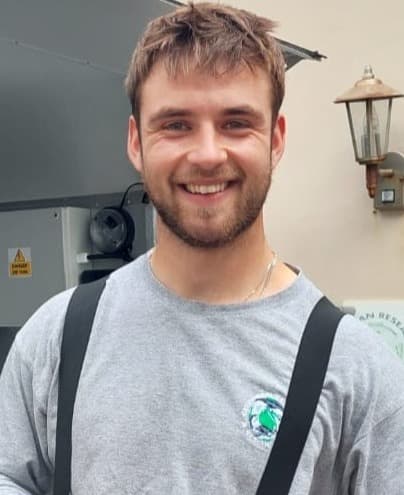 Ciaran Dolan
Research Assistant
BSc Hons (West of England)MRes (University of Exeter) in progress
Ciaran first joined the CRRU team in 2018 and is currently undertaking an MRes with CRRU at the University of Exeter, looking at the feeding ecology and distribution of minke whales in the Moray Firth. He has a keen interest in the application of biological tracers for understanding the trophic ecology of marine consumers, which he hopes to pursue at PhD level. With a strong enthusiasm for the oceans and exploration, Ciaran seeks any available opportunity to be out on the water and also works as a freelance Marine Mammal Observer (MMO). Ciaran's personal interests include snorkelling, photography, reading, sports and keeping fit.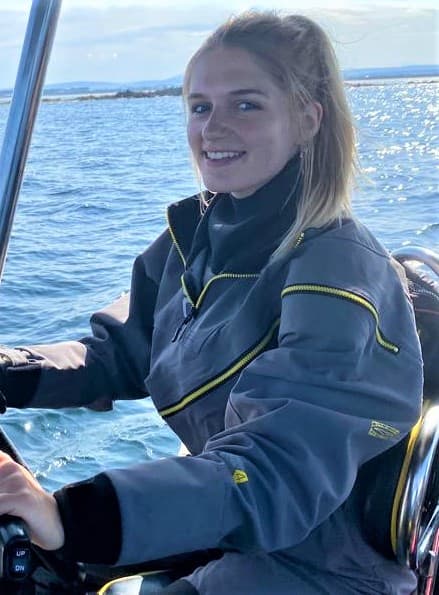 Ella Marwood
Research Assistant
BSc Hons (UCL, England)MSc (St Andrews, Scotland)
Ella first joined CRRU as a team member in June 2021 and has been working with the charity ever since, returning to help coordinate teams of volunteers and contributing to fundraising. With a comprehensive background in Zoology, Ella completed her MSc in Marine Mammal Science at University of St Andrews in August 2023. She hopes to pursue a PhD in the near future, and intends to incorporate working with CRRU in her PhD project. Ella's strong passion for the ocean and nature is reflected in her non-academic interests, as she is a keen bird watcher and loves swimming in the sea, kayaking and hiking.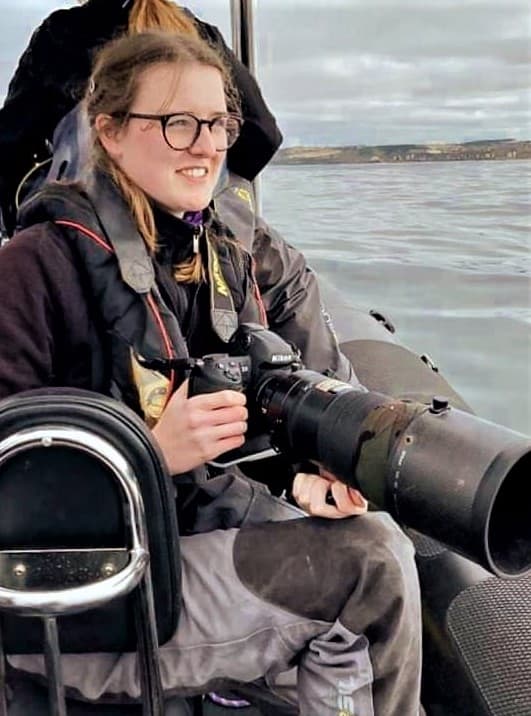 Anais Bliault
Research Assistant
BSc Hons (Aberdeen, Scotland)
Anais first joined CRRU as a team member in August 2021 and has since contributed her efforts to fundraising, public outreach and assisting as support staff. Her strong enthusiasm for marine mammal conservation and meeting new people, as well as her love for Gardenstown, sees her returning to help with surveys and coordinate teams during the summer months. As a recent graduate in Marine Biology from the University of Aberdeen, Anais is set to embark on internships in South Africa and Australia in the hopes of developing a new skill set she can later apply with CRRU. In her spare time, Anais is an avid scuba-diver and paddle boarder, and enjoys being on or in (under) the water whenever she can.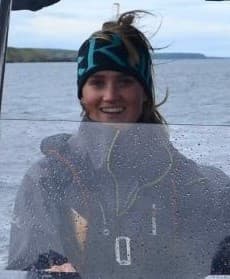 Emma Adair
Research Assistant
BSc Hons (Napier Edinburgh, Scotland)
Emma first joined CRRU in 2021, where she discovered her love for all things cetacean. Emma then went on to complete her undergraduate thesis with CRRU, investigating the diving ecology and foraging behaviour of coastal minke whales in the outer Moray Firth. In recent years, Emma returned to Gardenstown to help with the preparation for the upcoming teams, and to aid in the ongoing research work. Emma takes any chance she can to get out on the open ocean and has recently started working as a Marine Mammal Observer. In her spare time, she enjoys pier jumping, kayaking, tennis and hockey.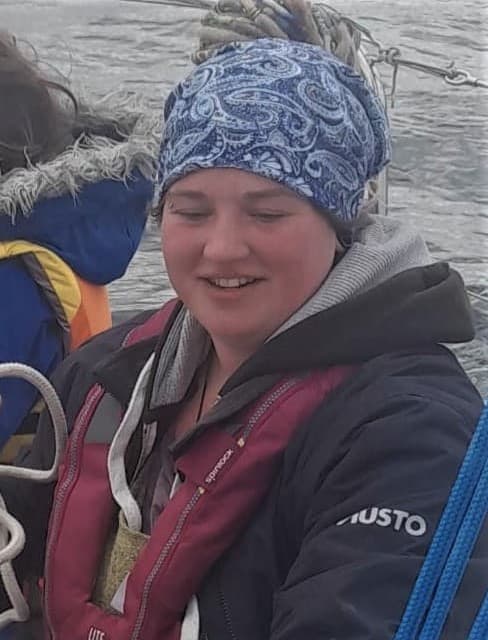 Manon Jesus Wells
Research Assistant & Artist in Residence
HND (Elgin, Scotland)
Manon is a local artist and competent sailor living in Whitehills, and often joins the team to assist with surveys. Over the winter months, she keeps a close eye on the CRRU research vessel "Hermes" (which is stored in Whitehills) and oversees any maintenance issues. Manon is also a skipper, with her own sailing boat, and further works offshore as a Marine Mammal Observer. On days not revolved around boating, Manon enjoys making her own clothes and exploring the local wilderness with her charismatic dog "Solo".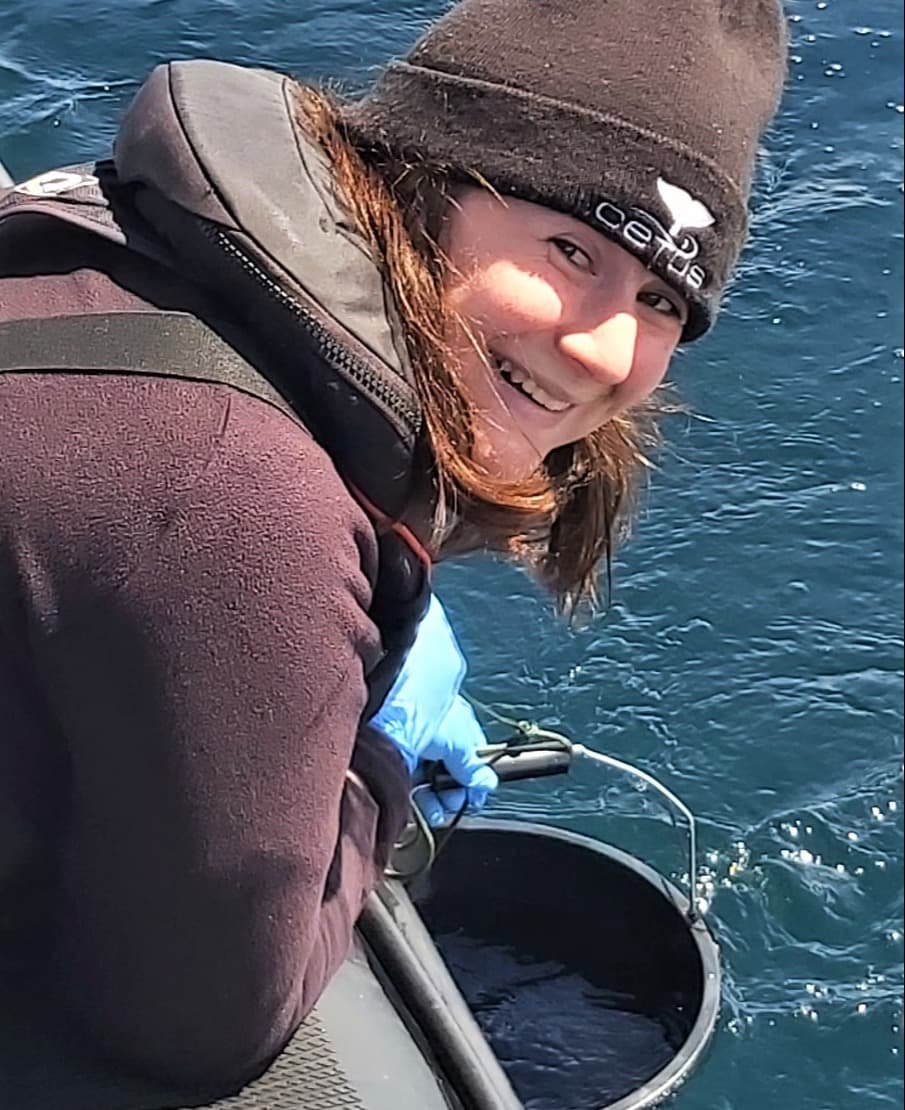 Dr Betty Boyse
Honorary Research Associate
BSc Hons (Portsmouth, England)MSc (London, England)PhD (Leeds, England)
Betty carried out her PhD in collaboration with CRRU investigating cetacean habitat use in relation to prey using environmental DNA metabarcoding. The results provided important baseline characteristics for the Moray Firth community in a newly established marine protected area, against which to evaluate future management implementations. Betty is now embarking on a post-doc with the British Antarctic Survey investigating increased shipping traffic in the Arctic, but she continues to be a regular visitor to CRRU and supports ongoing eDNA research. Betty is happiest underwater scuba diving, or otherwise found photographing whatever wildlife she can find.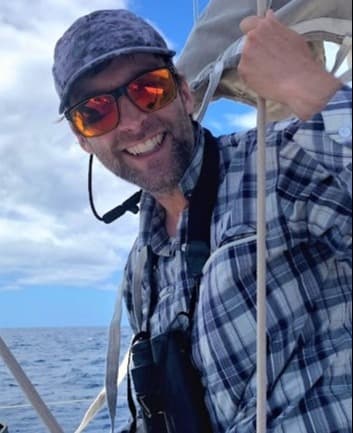 Gary Haskins
Honorary Research Associate
BSc Hons (Portsmouth, England)
Gary has been a core member of the CRRU research team since he first joined the organisation back in 2006. Having worked on marine mammal projects in Scotland, the Philippines, Iceland, the Azores, and California, he is an accomplished field researcher and boat handler. He has experience working with communities, as a marine wildlife data analyst, and with conservation engagement. An extremely personable member of the team, Gary is also a keen photographer, talented guitarist and musician.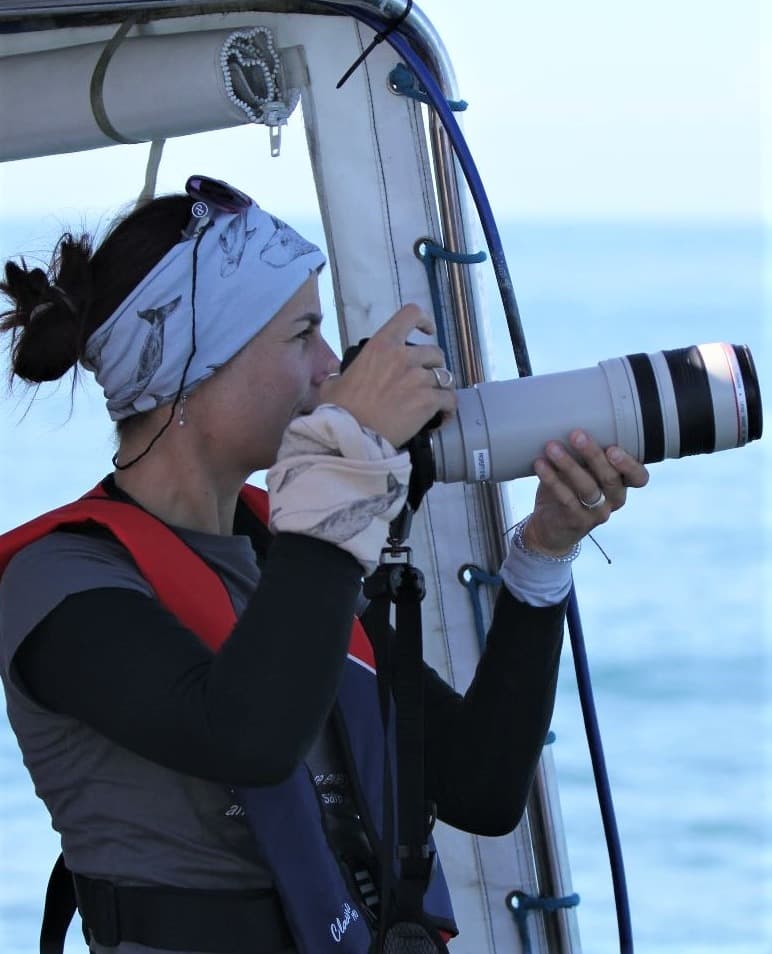 Sonja (Pine) Eisfeld-Pierantonio
Honorary Research Associate
BSc (Bremen, Germany)MSc (Bremen, Germany)MSc (Bangor, Wales)
Sonja (or Pine as she is more affectionately known) is a senior researcher with the CRRU team who has been involved with the charity since 2003 when she formerly completed her MSc in Marine Mammal Science under the supervision of Dr Robinson. She currently works as the marine pollution coordinator for WDC in Chippenham, but regularly assists CRRU with data analyses and the preparation of publications. Pine is a keen sportswoman and accomplished violinist and enjoys bouldering, HIIT, gardening, sewing clothes for her kids and classical music.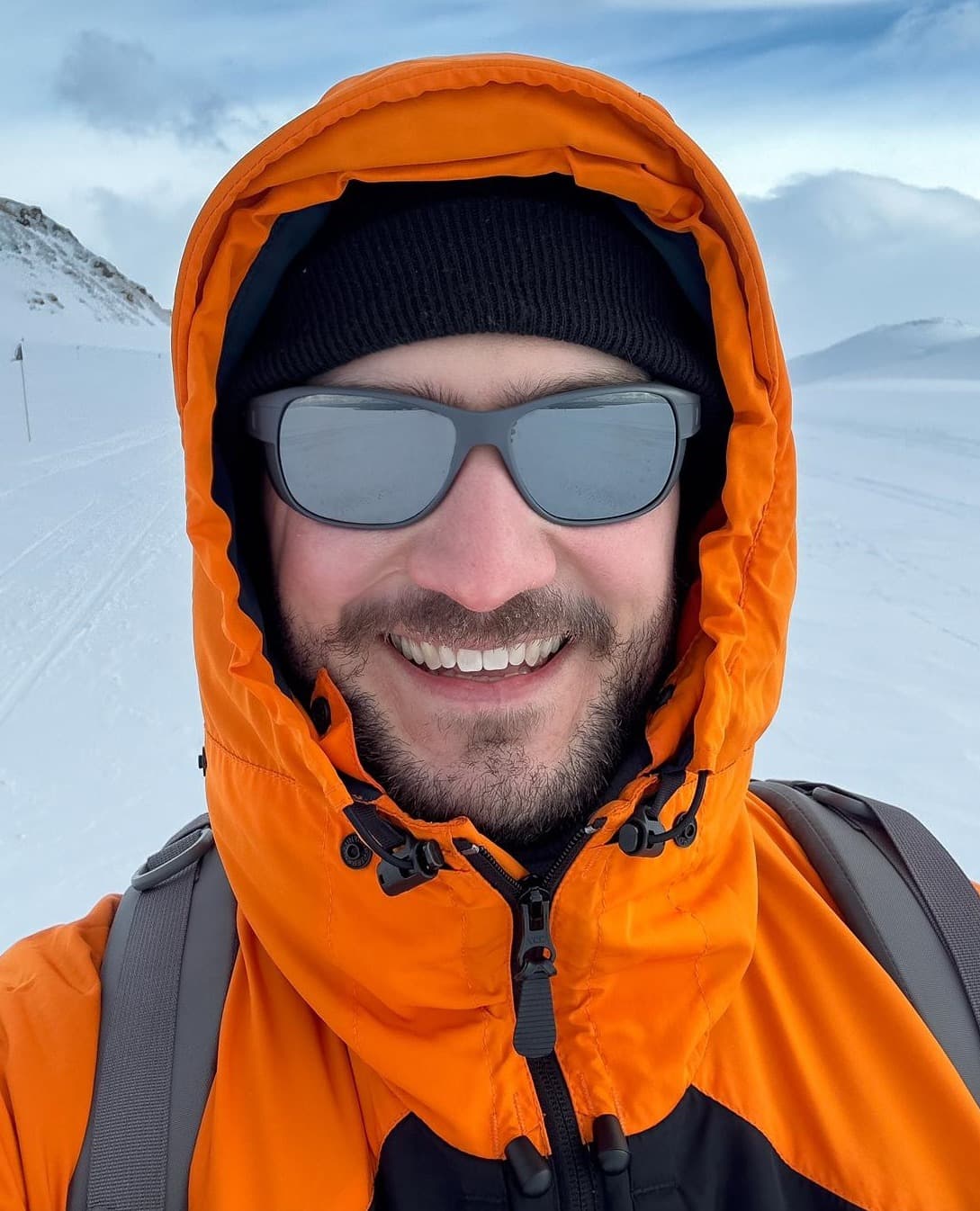 Dr Connor Bamford
Honorary Research Associate
BSc Hons (Southampton, England)MPhil (Cambridge, England)PhD (Southampton / British Antarctic Survey)
Connor is a marine ecologist specialising in geospatial analyses. He is particularly interested in insuring that research informs science policy and aids ongoing conservation and management efforts particularly around MPAs. Along his academic journey, Connor has spent time researching dolphins, whales, seals and fish, in both northern and southern hemispheres. He is currently a researcher at the British Antarctic Survey, using automated analyses of satellite imagery, to understand how climate change is impacting crabeater seals along the Antarctic Peninsula.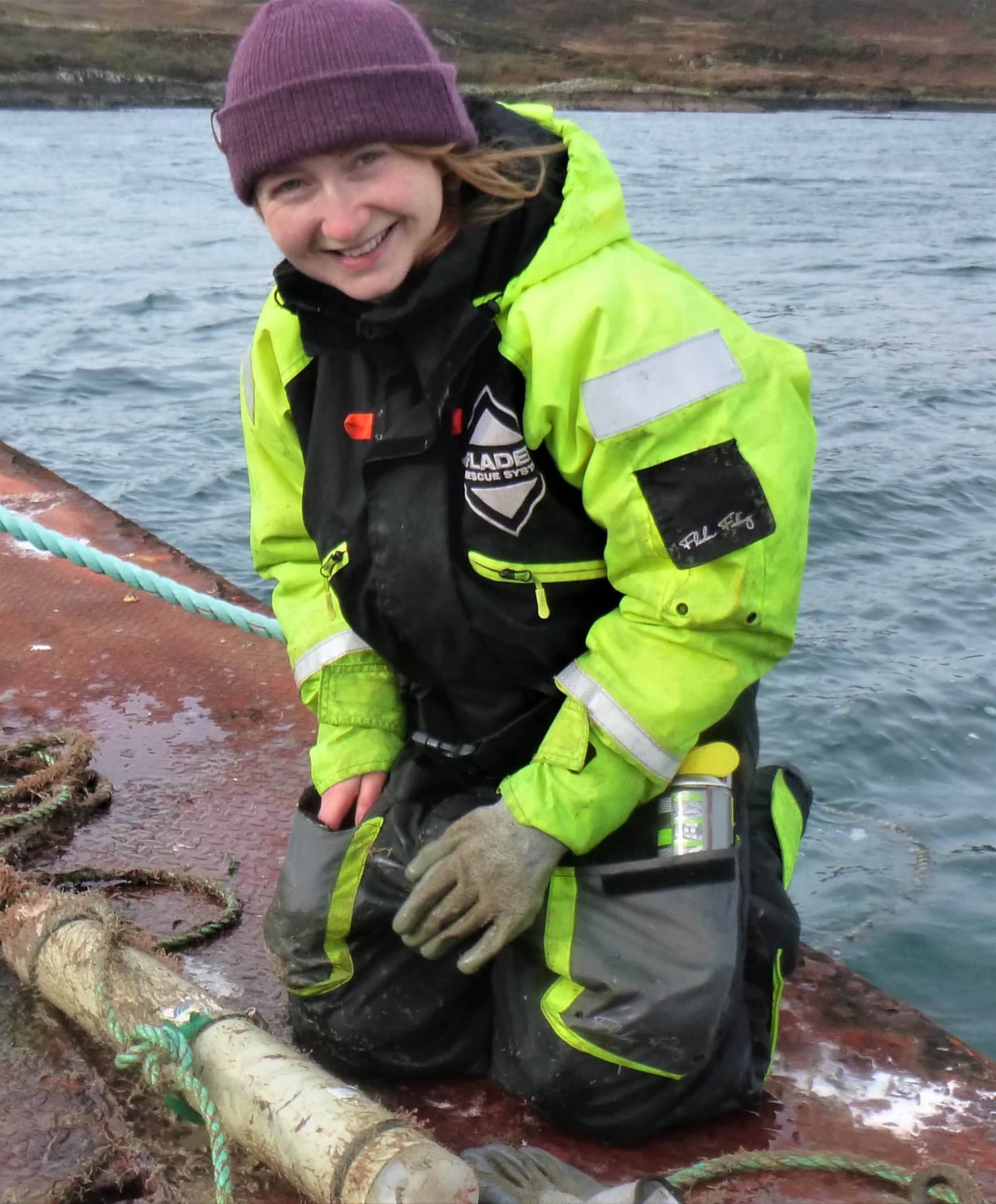 Dr Texa Sim
Honorary Research Associate
BSc Hons (Aberdeen, Scotland)MSc (Bangor, Wales)PhD (SAMS, Scotland)
Texa carried out both her Bachelors and Masters theses with CRRU then went on to complete a PhD with SAMS in 2022, looking at the interaction of harbour porpoises with salmon farms, She currently works as Project Manager for the Community Association of Lochs and Sounds (CAOLAS), a marine community-led charity based in Ardnamurchan, Morvern and Sunart on the west coast. Additionally, Tex works as a consultant for Affric Ltd, providing marine expertise for a number of coastal developments around the Scottish coast. A long-term supporter of the charity, Texa has a healthy appetite for all things marine, and loves to be close to the water. She also volunteers with the Oban Mountain Rescue Team and the Search and Rescue Dog Association Scotland (SARDA) since 2021, with her trainee rescue dog "Sgiath".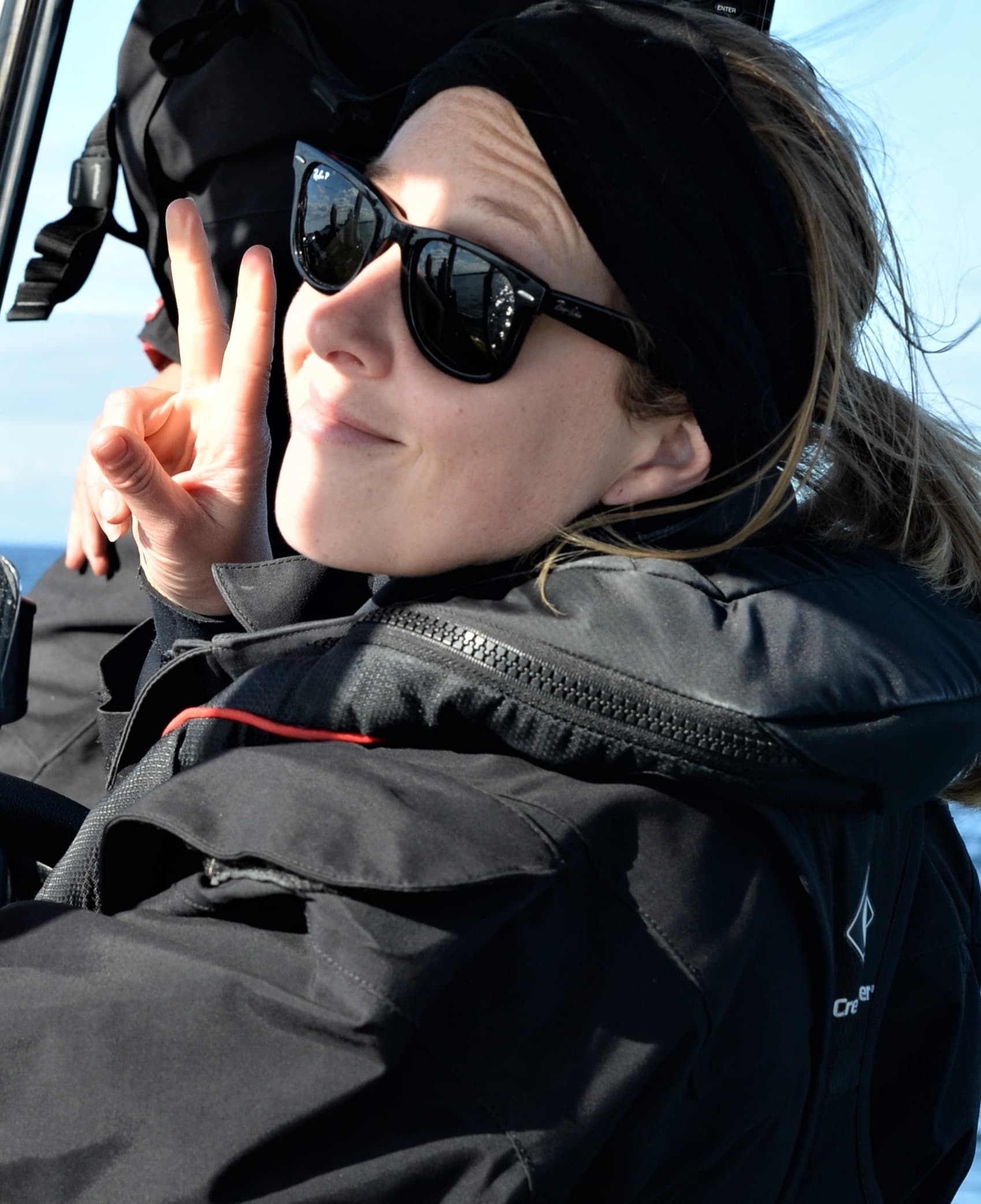 Grace Russell
Honorary Research Associate
BSc Hons (Western Australia, Australia)MSc (Curtin, Australia)PhD (Western Australia, Australia) in progress
Grace is currently completing her PhD on the body condition and migration timing of humpback and blue whales in Australia. The Fat Whales Project, a project stemming from the PhD, focuses on the nutritional condition of baleen and toothed whales in the south west and great southern region of WA. Grace first discovered CRRU back in 2016, on attending one of our intern training courses, and subsequently went on to become a research assistant for the charity. Her love of all things marine mammal stemmed from a pygmy blue whale survey with the Centre for Whale Research WA, out in the Perth Canyon during her undergraduate degree. She now collects her PhD data on the very same vessel. In addition to her love of baleen whales, Grace also collects data on killer whales and sperm whales from the Bremer Sub Basin during their seasonal abundance from January to April.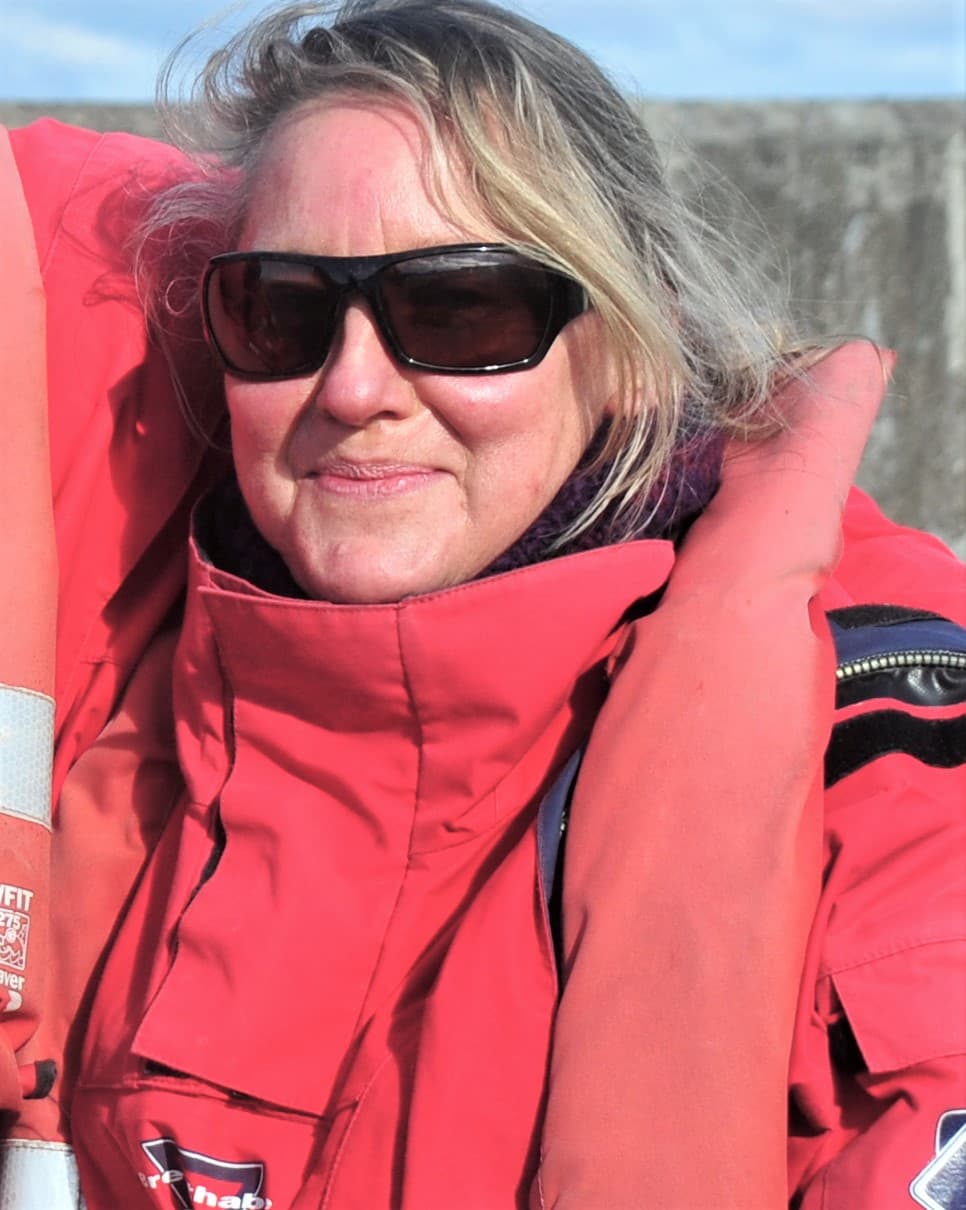 Rebecca Hall
Honorary Research Associate
BAppSc (South Australia, Australia)
After 25 years working as an ecologist/botanist on terrestrial conservation projects, Rebecca chose to pursue her passion for the marine environment. This initially led to her volunteering with CRRU in 2012, followed by MMO training in the UK in 2013 and New Zealand in 2014. She has volunteered as a Research Assistant on marine mammal projects in New Zealand, Wales and Australia. Since 2017, Rebecca has been employed by the Blue Whale Study as Scientific Officer/Administration Manager, assisting Dr Pete Gill in blue whale research and undertaking aerial surveys for offshore wind farm and drilling consultancies. Since 2020, she has been a consultant MMO/MFO on offshore wind and oil and gas projects in Australian waters.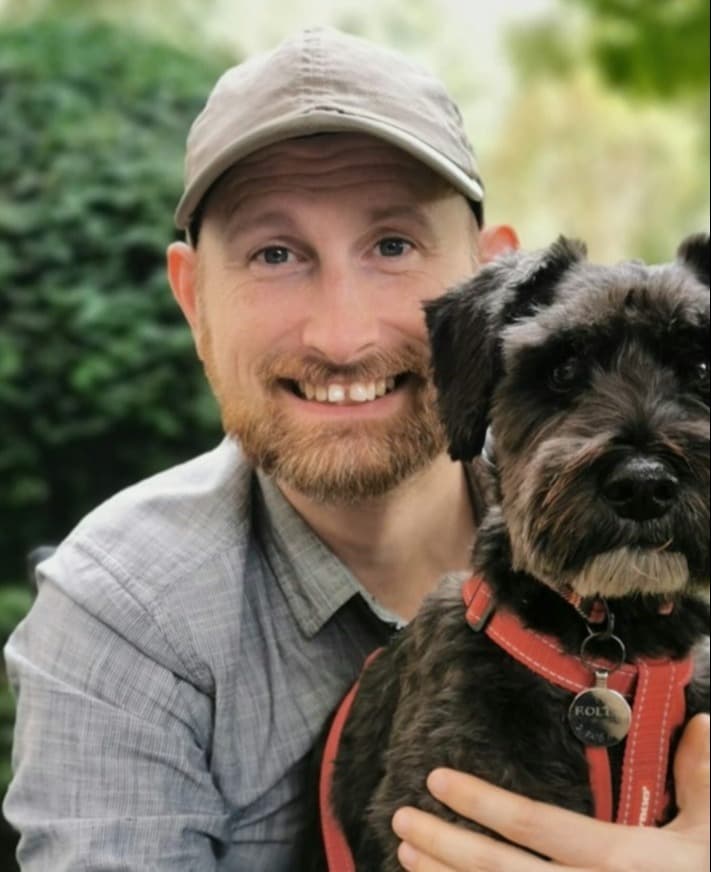 Dr Michael Tetley
Honorary Research Associate
BSc Hons (Newcastle, England)MSc (Bangor, Wales)PhD (Bangor, Wales)
Mike undertook his PhD study with CRRU on the distribution and behaviour of North Atlantic minke whales back in 2005, from which his early interests in habitat mapping and ecological modelling were seeded. Over the following years, he has worked on numerous projects associated with the UN's Convention on Biological Diversity and the IUCN's Joint Species Survival World Commission on Protected Areas. In his current role as Scottish Programme Manager for the NBN Trust, Mike leads the NBN's Better Biodiversity Data Project, overseeing the development of the Trust's work across Scotland. Currently living and remotely working on the Isle of Mull, Mike enjoys his daily walks with his dog "Rollo"...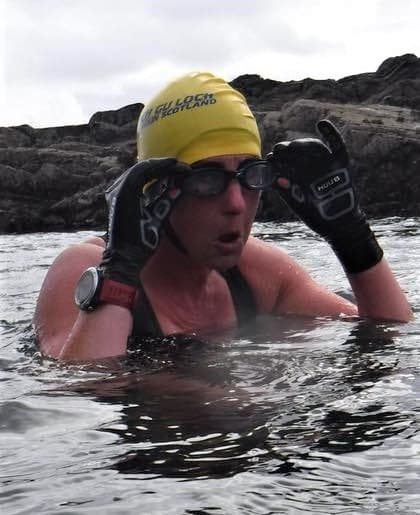 Rebecca Campbell Wilson
Board of Trustees
Rebecca is the most recent addition to the Board of Governors. She has a background in Corporate Finance, in particular Treasury, Risk & Project Management, and brings to the charity a wealth of accounting know-how, fundraising experience and business aptitude. Rebecca's hobbies include sailing, ice swimming, and extreme triathlons. She is also a volunteer Coastguard Rescue Officer.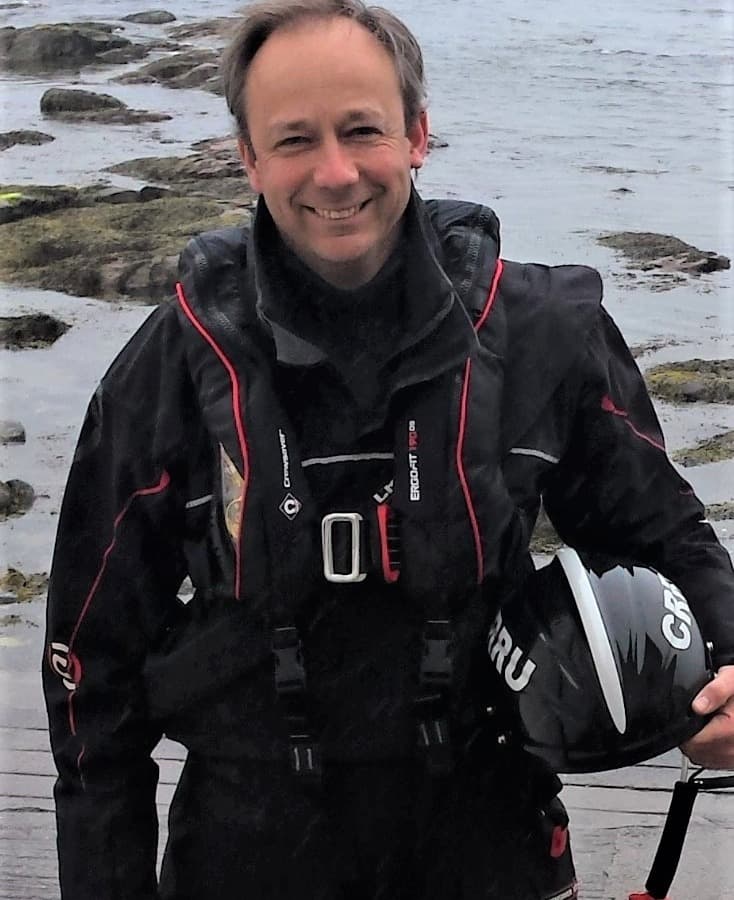 Richard Atkinson
Board of Trustees
Richard has been a close friend and supporter of the CRRU since 2002 after undertaking a mammoth fundraising challenge, circumnavigating the UK coastline in a one-man sea kayak. After several years of assisting CRRU, Richard was formally invited to join the CRRU Board of Trustees in 2016. He currently lends his many years of business acumen and experience to the charity's dedicated management team.